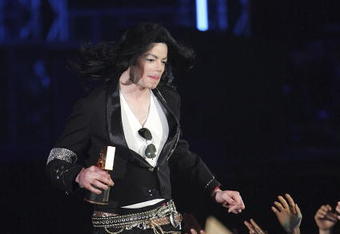 Introduced to an adoring crowd at a Tokyo stadium as the king of pop, the king of rock and the king of soul, Michael Jackson flashed a quick peace sign as he walked onstage to the sound of one of his biggest hits, Thriller.
"I'd like to say to the Japanese people from the bottom of my heart, I love you very, very much", he said.
Receiving a Legend Award at MTV's Japan Video Music Awards ceremony, Michael said, "I thank the fans around the world and I thank the fans in Japan."
"I promised myself I wouldn't be emotional when I got up here," he continued, as his voice cracked and trailed off. Then he added, "I think you are very sweet, generous and kind people.
I thank all the people who believed in me. I believe in you.
I thank my children, Prince, Paris and Blanket, who have been there for me, he added.I love them very much."
Backstage Moments:
In a brief appearance backstage with reporters after the ceremony, Michael was asked if he had a message for his fans.
"I love you and thank you for your loyalty," he said, making a light bow and putting his hand to his heart.
A steady rain pelted Tokyo on Saturday, but that could not prevent several hundred fans from flocking to catch a glimpse of Michael as he arrived to receive the award.
The crowd held up signs that read "We love you, Michael" and "Welcome to Japan" and some sported his trademark glitter glove as Michael stepped out of a black limousine, surrounded by several bodyguards.
Wearing sunglasses, a jewellery-embroidered black blazer and tight black trousers with a simple white T-shirt, Jackson did not speak but waved and raised a forefinger to acknowledge a group of reporters before he was whisked inside along a red carpet.
He also spent time in Tokyo touring the city, visiting orphanages and meeting with Asian business.
"I look forward to my visit to Japan because I have so many fond memories of my visits there," Michael said in a statement.