In July 27, 1991, Michael hosted for his father's birthday a dinner party (a family only event) at the Neverland Valley Ranch. Michael named the birthday party "Joseph Jackson Day".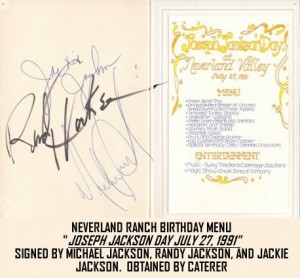 Above picture is an autographed greeting card /dinner menu, s
igned in full by Jackie Jackson, Randy Jackson and Michael Jackson;
a very rare and unique item from the Jackson's family event which was acquired from the caterer.
"I catered the event with my father and grandmother, through our family business located in Santa Ana, CA…BURRELL'S BAR-B-Q, or BURRELL'S RIB CAGE. It was just the Jackson family and my family for most of that day, until the band showed up later that evening. I also have a published letter to the editor newspaper article about the day I spent with them."
--- caterer (name not given)